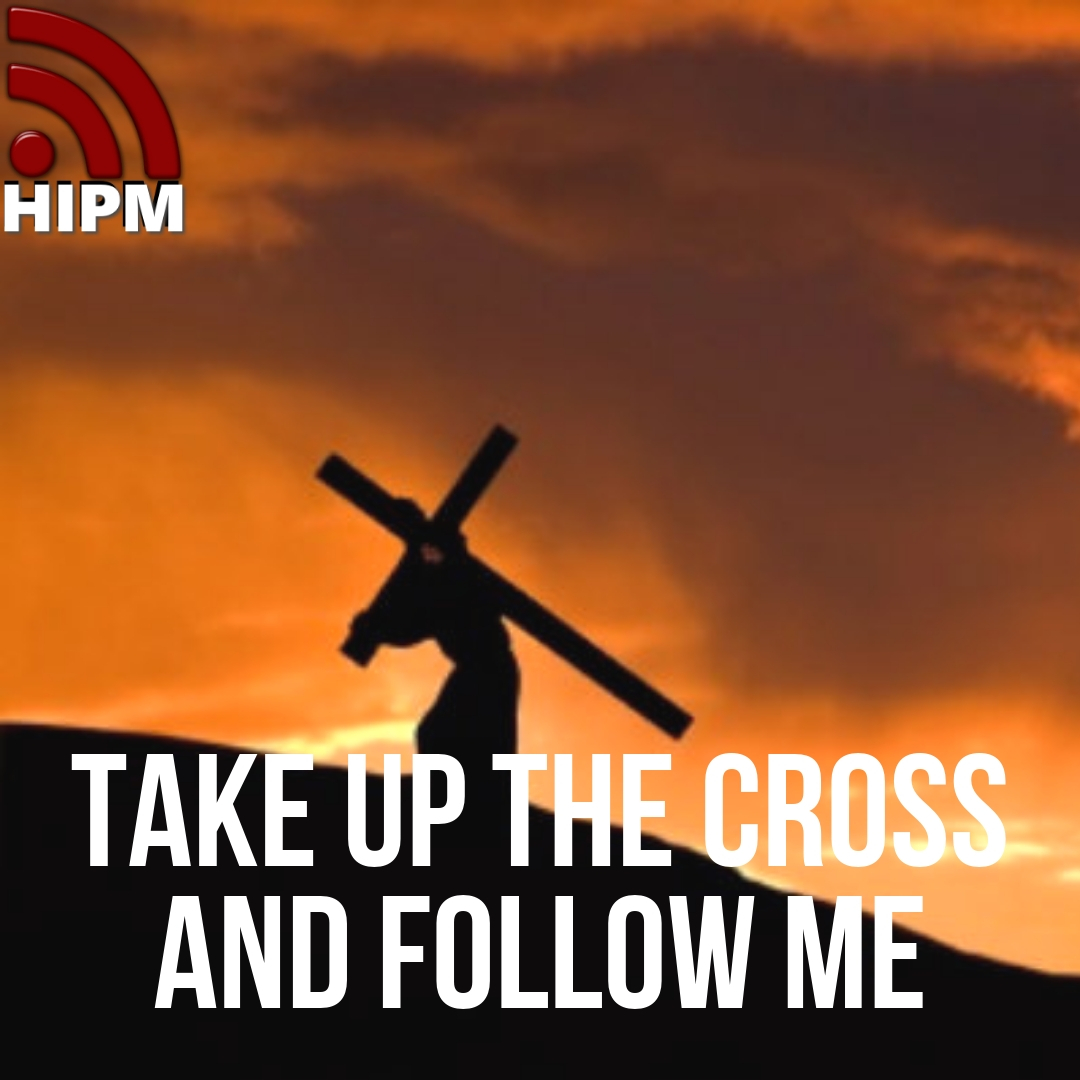 John 19:16-17 16 Then he delivered Him to them to be crucified. Then they took Jesus and led Him away. 17 And He, bearing His cross, went out to a place called the Place of a Skull, which is called in Hebrew, Golgotha

Luke 23:25-26
25 And he released to them the one they requested, who for rebellion and murder had been thrown into prison; but he delivered Jesus to their will. 26 Now as they led Him away, they laid hold of a certain man, Simon a Cyrenian, who was coming from the country, and on him they laid the cross that he might bear it after Jesus.
Hebrews 12:1-2
Therefore we also, since we are surrounded by so great a cloud of witnesses, let us lay aside every weight, and the sin which so easily ensnares us, and let us run with endurance the race that is set before us, 2 looking unto Jesus, the author and finisher of our faith, who for the joy that was set before Him endured the cross, despising the shame, and has sat down at the right hand of the throne of God.
Mark 10:17-21
17 Now as He was going out on the road, one came running, knelt before Him, and asked Him, "Good Teacher, what shall I do that I may inherit eternal life?" 18 So Jesus said to him, "Why do you call Me good? No one is good but One, that is, God. 19 You know the commandments: 'Do not commit adultery,' 'Do not murder,' 'Do not steal,' 'Do not bear false witness,' 'Do not defraud,' 'Honor your father and your mother.' "
20 And he answered and said to Him, "Teacher, all these things I have kept from my youth." 21 Then Jesus, looking at him, loved him, and said to him, "One thing you lack: Go your way, sell whatever you have and give to the poor, and you will have treasure in heaven; and come, take up the cross, and follow Me."
Matthew 16:20-21
20 Then He commanded His disciples that they should tell no one that He was Jesus the Christ. 21 From that time Jesus began to show to His disciples that He must go to Jerusalem, and suffer many things from the elders and chief priests and scribes, and be killed, and be raised the third day. 22 Then Peter took Him aside and began to rebuke Him, saying, "Far be it from You, Lord; this shall not happen to You!"
23 But He turned and said to Peter, "Get behind Me, Satan! You are an offense to Me, for you are not mindful of the things of God, but the things of men." 24 Then Jesus said to His disciples, "If anyone desires to come after Me, let him deny himself, and take up his cross, and follow Me. 
Luke 14:27
27 And whoever does not bear his cross and come after Me cannot be My disciple.